BARBARA MARTINO-SLIVA VOTED FAVORITE REALTOR VERO BEACH FLORIDA

Barbara Martino-Sliva Dale Sorensen Real Estate Vero Beach Florida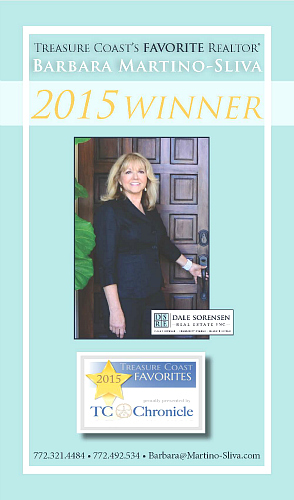 Vero Beach Florida, March 2015
Dale Sorensen Real Estate (DSRE) is pleased to announce that sales agent Barbara Martino-Sliva has been named "FAVORITE REALTOR" by TCChronicle.com. The public poll was conducted on-line February 2 through March 9. Martino-Sliva received more than 42% of the more than 5,220 votes placed.
"It's obvious that Barbara is a very popular Realtor," said Dale Sorensen, Jr., Managing Partner of Dale Sorensen Real Estate. "This poll is a testament to how people really view her. She is a great Realtor and a truly nice and generous person. She loves Vero Beach and being a Realtor and that just shows in everything she does. She really is very deserving of this title."
Martino-Sliva hs been active in the real estate industry for more than 30 years, both here and in the Midwest. She is a member of the "1% of all Realtors" on Trulia, Ambassador to the largest Realtor network in the country and named one of the "Red Hot Realtors of Vero Beach" by Newsweekly.
If you are interested in selling or buying in Vero Beach......Barbara is your Realtor!